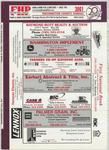 Kansas
Washington County 2001
Farm and Home Publishers, LTD, 2001
Image Quality:

High
These atlases contain separate maps for owners and residents. Use care to select the correct map for each township depending on the information needed.

Indicates a map that is georeferenced
Research Prints
All research prints will be printed with a light watermark.
Click
here
to see an example of a research print.
Research Prints are color prints fitted to 11" x 17" paper ideal for research and educational use, but not suitable for framing as center seams and imperfections will not be removed. Orders for less than 15 research prints will be mailed folded in an envelope. Larger orders will be shipped flat via UPS.